The accommodation of Nimon not only is very charming, well equipped, very calm, a small hoof bath but deep to relax after the discovery day of Kyoto, in addition it is immaculately located in the city.
The metro station is a 5-minute walk & we had the pleasure of meeting & renting electric bikes within two minutes walk.
For 2 days we traveled the city discovering its temples, gardens & different neighborhoods. Raku-Chari Bike Rental …
Every night we were delighted to go back to Nimon & enjoy the very zen place … I recommend it warmly.
-by Google translate-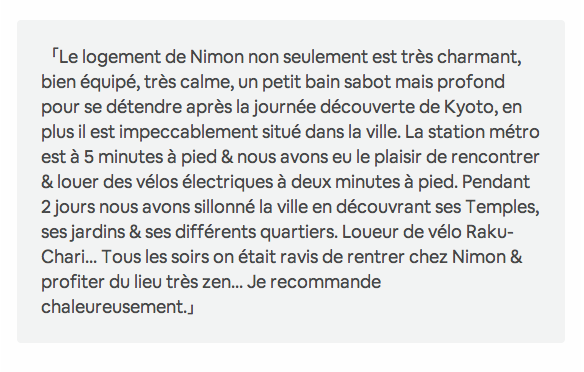 ---
We communicated in English, but the review was in their native language French. Thank you very much! We look forward to seeing you again ♥