Nearest Bus stop: 3-min. walk from Higashiyama-nioomon bus stop (available bus no: 206,31,201,202,203)
Keihan Line: 8-min. walk from Sanjo-keihan station
Subway: 5-min. walk from Higashiyama station
Taxi: 15 mins. from JR Kyoto station
Parking: There is a toll parking lot in front of NIMON
From Kyoto Station
From Kyoto station, there are three ways; take subway, bus or taxi.
Subway: Take subway Karasuma Line going toward to [Kokusai Kaikan], change at [Karasuma Oike] to Tosai Line, take Tosai Line going toward to [Rokujizo] and get off at [Sanjo-Keihan] station. 8-min. walk from the station. (about 25 mins) 260Yen
Bus: Take Bus no. 260 going toward to [Sanju-sangendo/ Gion/ Kitaoji-bus-terminal] and get off at Higashiyama-nioomon bus stop. 3-min. walk from the bus stop.(about 30-40 mins) Adult 230Yen, Child 120Yen
Taxi: 10~15 mins from Kyoto station Approx.2000Yen. Address is below or Please show ★(star mark) in the Japanese 
Address
450 Shooji-cho, Sakyo-ku, Kyoto 606-8353 Japan
★606-8353 京都市左京区正往寺町450 (東山仁王門を西入る2筋目 新高倉通りT字路北側。)
Street guide from Sanjo-Keihan station (Keihan line, Subway)
①Go out of exit number 8 [Keihan Kita Building], turn left. Go straight about 200m. You can see a 24H convenience store [Daily Yamazaki], it is nearest convenience store from NIMON.
②And keep going, then, you can see [the b kyoto sanjo hotel], turn left the corner.
③Go straight about 250m, you can see a red post box at the right side, turn right the corner.
④Keep straight 100m, you can find NIMON sign at the left side.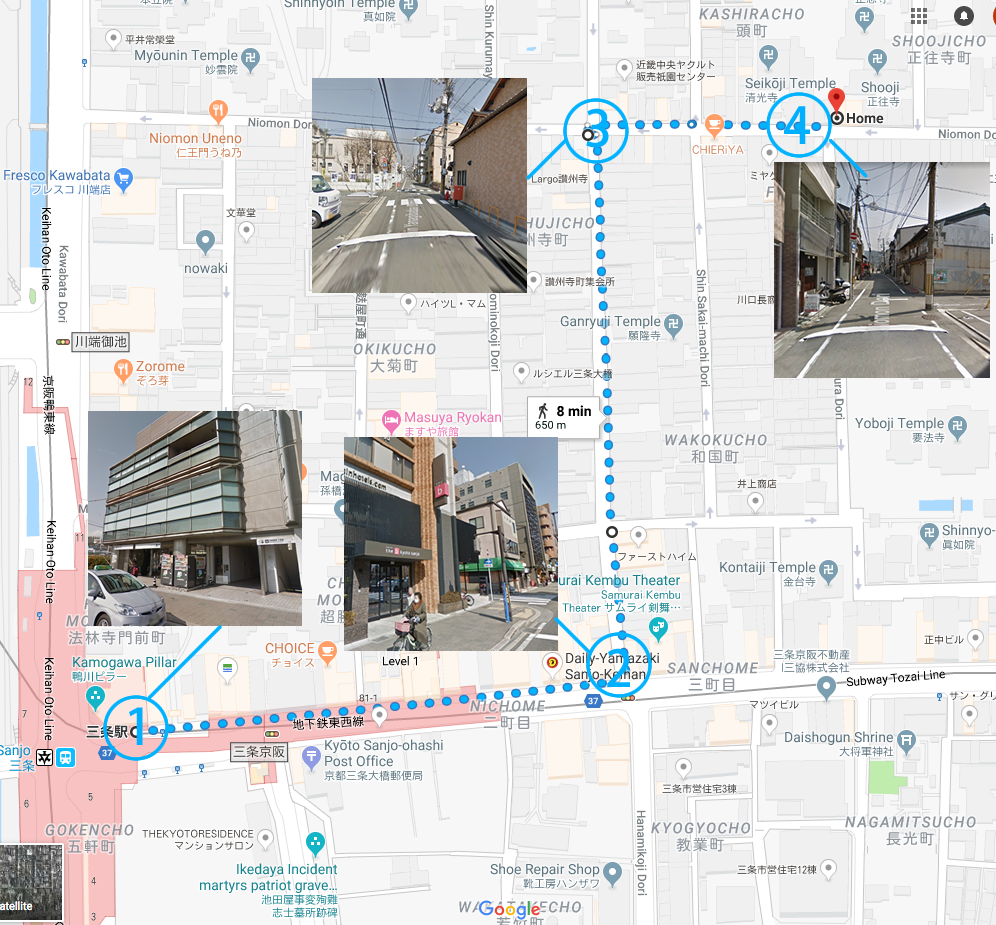 From Kansai International Airport
*JR HARUKA (80 minutes)
Price:  Free seat 2770 Yen, Reserved seat 3080Yen, Upgraded seat 4010 Yen
Take JR HARUKA going toward to Kyoto and get off at Kyoto station.
From Kyoto station, Please see above information [From Kyoto station]
*Airport Limousin Bus (120 minutes)
Price: 2550Yen
Take a Limousine bus going toward to Kyoto and get off at Sanjo-Keihan station. Bus to Sanjo-Keihan is one per hour. There are 1 to 3 buses to Kyoto station, but most of buses go to until Kyoto station. In that case, you should transfer at Kyoto station.
http://www.kate.co.jp/en/
*MK SKY GATE SHUTTLE (90 minutes)
Price: 4200~4500Yen
Door to door airport shuttle. It is a sort of a share taxi.
https://www.mktaxi-japan.com/skygate-shuttle
From Itami Osaka Airport
*Airport Limousine Bus (60 minutes)
Price: 1310Yen
It is easy and comfortable. From the Kyoto station, Please see above information [From Kyoto Station]
https://www.okkbus.co.jp/en/timetable/K/
ACCESS MAP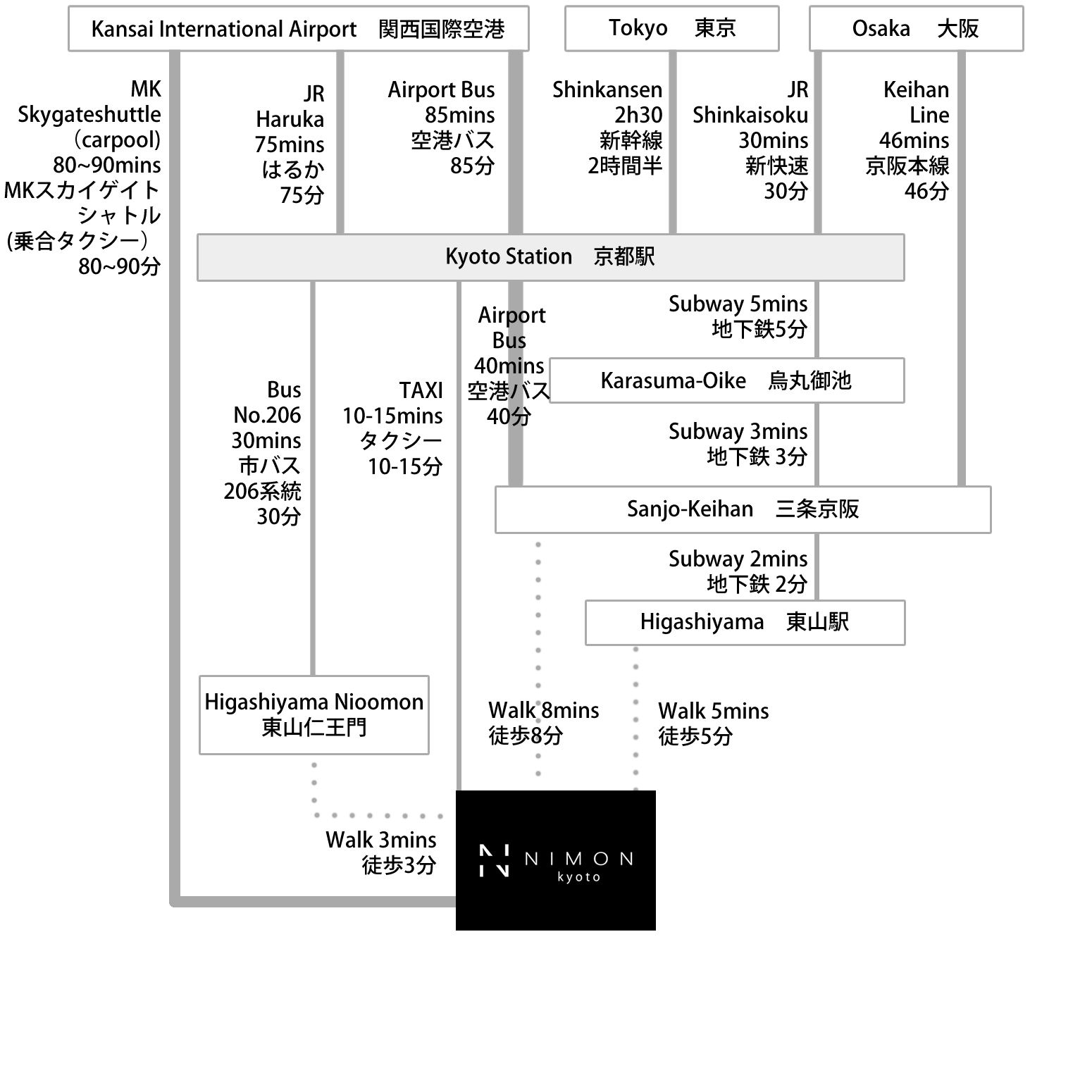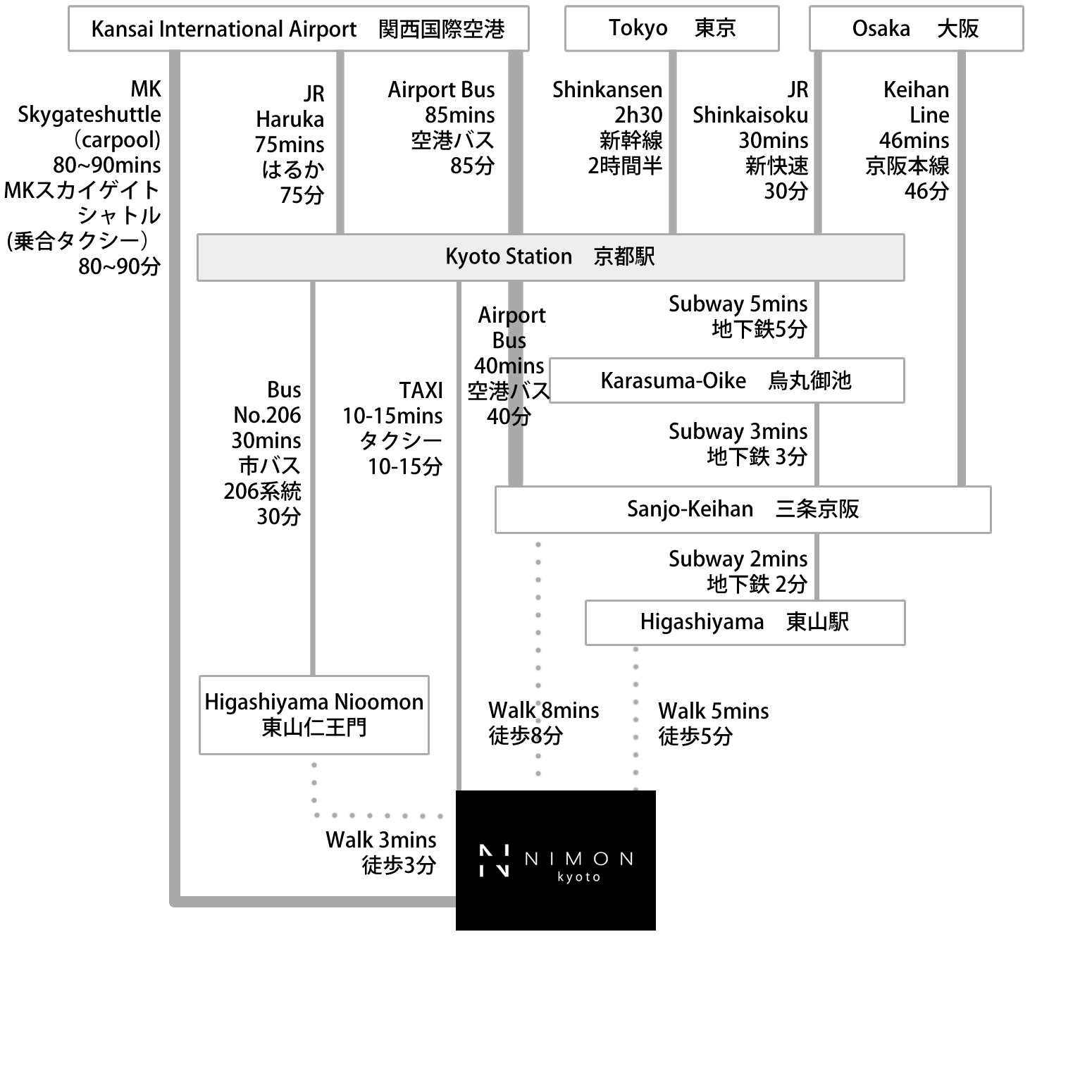 Access Information download